---
MICROGRAPH

PHYSICAL DATA

TYPICAL CHEMICAL COMPOSITION

TYPICAL MINERALOGICAL COMPOSITION

THERMAL EXPANSION

DYNAMIC CORROSION

APPLICATION EXAMPLES

CASTING TYPE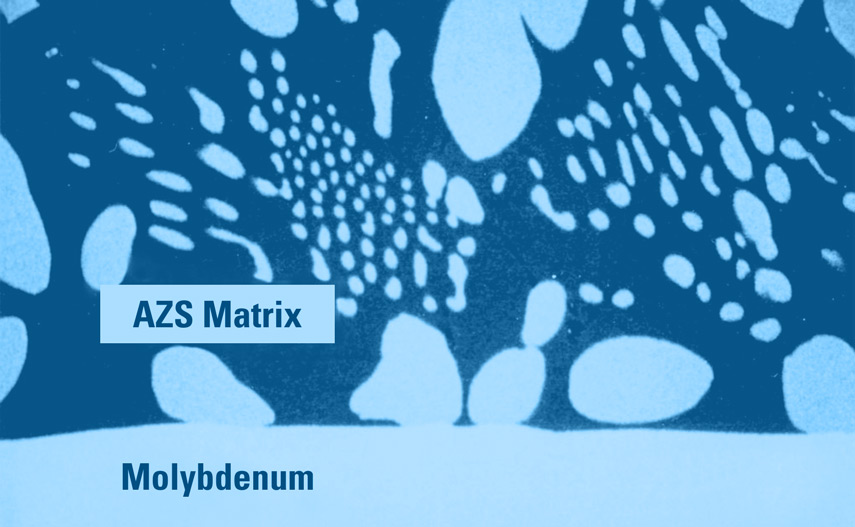 REFEL 1240 matrix
| | |
| --- | --- |
| Cold crushing strength | >200 N/mm2 |
| Refractoriness under load (T05) | 1700°C |
Molybdenum insert in glass melts
| | |
| --- | --- |
| Corrosion | 0 |
| Blistering | 0 |
| Stone formation | 0 |
| Exudation | 0 |
| Bulk density | 4.10 – 4.60 g/cm3 |
REFEL 1240 FVMo combines a 1240 FVB block (bulk density 4.00 g/cm3) with a molybdenum metal insert (density 10.20 g/cm3). The bulk density of a REFEL 1240 FVMo block correlates with the size and shape of the insert which varies depending on the application of the block.
TYPICAL CHEMICAL COMPOSITION
TYPICAL MINERALOGICAL COMPOSITION
Fused AZS 41% ZrO2 and molybdenum at 1550 °C in Na-Ca glass with SO3= 0.27%.
---

Contact us for

Contact us for

For sizes please contact